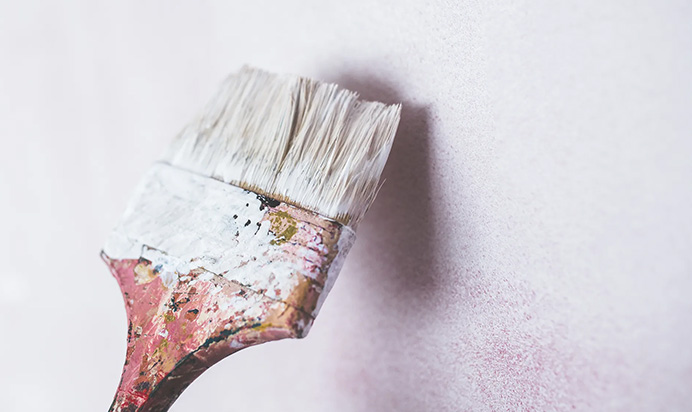 How to Choose a Paint Finish
After choosing your paint color, you'd be surprised by how the level of sheen it has can enhance the surface! Sheen, or paint finish, is the amount of light that is reflected off of a painted surface, which results in a gloss—or a matte, depending on which sheen you select. Some sheens work better in different areas of your home, and we are happy to help our customers learn which sheen makes the most sense for their projects.
The Basics: Sheen and Gloss
All sheens and glosses fall on a spectrum from no shine to high shine. Different amounts of sheen can impact how different colors look and add depth to the rooms in your home. While there are several kinds of sheen, the most common sheens and glosses to come across are:
Flat
Matte
Eggshell
Pearl
Satin
Semi-Gloss
High Gloss
Where Do Certain Sheens Look Best?
Matte:
Bedroom
Dining Room
Eggshell:
Family Room
Window
High-Gloss:
Architectural Details
Furniture
A Flat Finish:
This type of finish does not reflect light, producing no sheen whatsoever. This non-reflective finish allows more of the paint's pigment to be seen, and is more forgiving of imperfections, creating an evenly painted surface. We also advise that when deciding on a flat finish in high-traffic areas, to be aware that stains are more difficult to remove from a low-sheen paint, and repeated rubbing or cleaning can wear away the paint.
A Matte Finish:
A matte finish is almost as shine-free as a flat finish, also providing effective hiding of flaws and dimension of color, but with a little more durability, ease of application, and a smooth surface after it dries. Matte finish paint also can handle frequent cleaning, even when applied in more high-traffic areas like hallways or family rooms. A matte finish can also add a luxurious touch to several interior spaces, including bedrooms and dining rooms.
An Eggshell Finish:
Eggshell finish has a similar sheen of a flat or matte finish, but it is significantly more durable. This sheen provides a simple-to-clean, almost shine-free finish, great for most rooms of the house, like family rooms and hallways. While it reflects more light than a flat or matte finish, the soft glow it has portrays colors beautifully.
A Pearl Finish:
A pearl finish is a medium gloss that has a good amount of durability. Both aesthetically pleasing and easy to clean, a pearl finish gives depth to trim while being perfect for walls in high-traffic areas. It can be used on surfaces everywhere from wainscoting to doors, and resists mildew for high-humidity areas like bathrooms and kitchens. Another thing to remember is that this type of finish is more susceptible to showing lap marks and other flaws.
A Satin Finish:
This type of finish is often confused with others, the difference between eggshell and satin is that satin provides a higher gloss, while also being more stain-resistant and durable than lower sheens, including eggshell. Satin's distinctive lustre is perfect for highlighting windows, shutters, trim and doors.
A Semi-Gloss Finish:
The luminous appearance of a semi-gloss finish is optimal to bring out the architectural elements of your home and create dimension on millwork, trim, and doors. Semi-gloss has a smooth, furniture-like finish, and its glossy look makes it a desirable paint finish for many surfaces like kitchen cabinets.
A High-Gloss Finish:
Providing a mirror-like finish, high gloss falls on the shiniest end of the sheen spectrum. This finish is very durable and has an elegant shine. It is easy to clean, is stain-resistant and will add a beautiful and sophisticated look to doors, trim, and even a busy kitchen. High-gloss paints require careful application and since a gloss finish reflects a lot of light and can highlight flaws, avoid using it on surfaces that aren't completely smooth.
Whether you need help deciding on a paint color or finish, or are ready to paint, MGP is here to help! Our team can transform your Rockland, Bergen, Westchester, or Orange County home.