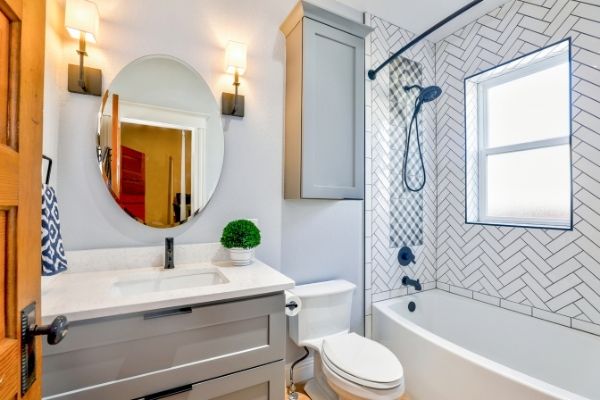 What is The Best Paint Type for Bathroom Walls
Giving your bathroom a boost with a fresh coat of paint makes you a little worried as the bathroom walls are consistently prone to moisture. And moisture may make your bathroom wall paint come off due to excess moisture quantity.
Therefore, when planning to paint your bathroom remember to consider the dampness and humid conditions in mind. Hot showers and sink splashes can lead walls to experience signs of mold. Thus, choosing a paint that is resistant to such conditions is a better idea.
Today, we will talk about the best paint type for bathroom walls.
Latex Paint is the best paint for bathroom
If you are looking for the paint for your bathroom that lasts longer, reach for a water-based latex paint. While oil paints may look like better options for their own reputation and durability, oil paints usually require the use of harmful minerals and may even release high levels of volatile organic compounds (VOCs).
Latex paint on the other hand is a better pick when it comes to bathrooms and most of the companies today offer much-improved durability and moisture resistance features in latex paints. Just be sure that while opting for water-based latex paint, the paint type is washable. These paints will regularly have more tight molecular particles that don't permit water to infiltrate, which means you can scour away stains and buildup without stressing over dampness from your cleaning endeavors destroying your paint.
In addition, when arranging a bathroom paint makeover, choose to go with simpler-to-utilize and faster-to-dry latex paint. You can tidy up brushes and spills with water, and you'll inhale simpler in the little space when utilizing a low VOC paint.
Bathroom Paint: what to keep in mind before buying Latex Paint for your bathroom walls.
Bathroom paint tends to be a little different than the other parts of the house's interior painting. In reality, there is so much more to keep in mind, but you don't need to buy so-called bathroom paint to get the paint done.
Here are a couple of pointers that you should ask your professional painter service provider:
Moisture-resistant properties: Make sure your bathroom paint has anti-moisture microbial additives which can help your bathroom walls resist mold or water.
Water-washable: Since bathroom walls need an occasional wipe-down, as homeowners, you should ensure to have a good bathroom paint that is slightly tougher and more resilient and marginally harder and stronger than other inside paints.
Tight design: Some paints have a more tight construction, which can make lower-gleam sheens proceed just as more shiny paints in high-dampness conditions.
Which paints are best for the bathroom?
Bathroom paint needs to be water-resistant and mildew-resistant to avoid growth of mold. The good news is, there are a number of options for you that different brands offer to maintain price and quality.
Here are MGP's top picks of paints for bathrooms:
1 Zinsser Perma-White Mold & Mildew Proof Interior Paint: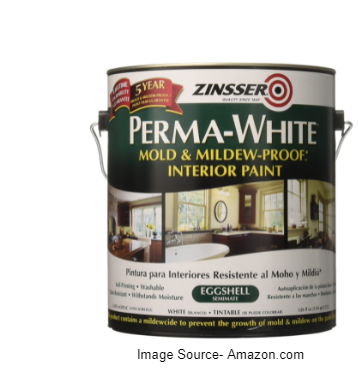 The reason why this is amongst our top picks is its Mold & Mildew proof feature. The Zinsser production is specifically formulated to ensure your bathroom walls are sealed in, moisture-resistant and have a glossy finish.
Pros:
Self-Priming
5-Year Mold & Mildew Proof
Lifetime Durability Guarantee
Washable
Stain-Resistant
Withstands Moisture
2 Diamond Brite Kitchen & Bath Paint: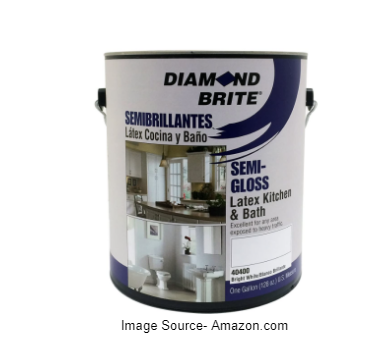 Light on pocket, Diamond Brite Kitchen & Bath Paint is built for high-traffic, high-moisture areas. According to our experience, this paint can is by far one of the best and cost-effective paints for a bathroom wall. It is washable, mildew-resistant, can be brushed on, sprayed on, offers semi-gloss finish, and great for DIY projects too.
Pros:
Easy to Clean Fingerprints, Stains, & Grease
Splatter, Fade & Mildew resistant
Excellent for Bathroom walls, Ceilings, Cabinets
Available in Gallons & Quarts
3 Zinsser WaterTite Mold & Mildew-Proof Waterproofing Paint: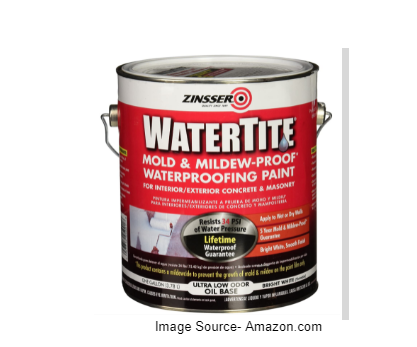 Another best option for a high-end bathroom wall paint is this Waterproofing paint from Zinsser. It makes an ideal choice for bathroom walls. The label describes that the paint can resist up to 34 PSI of water pressure making it an excellent option for walls inside shower.
Pros:
Ultra Low Odor Oil Base
Contains Mildewcide to prevent growth of mildew & mold on the paint film
Resists up to 34 PSI of water pressure
5-year Mold & Mildew Proof Guarantee
Prestige Paints Interior & Primer in One: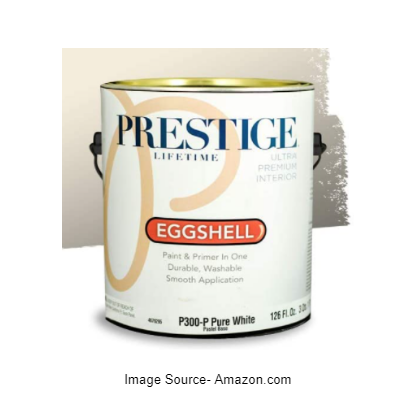 In MGP's next picks comes this washable and durable eggshell paint from Prestige. This is a Paint & Primer combo ideal for those who are looking to create any specific look in the bathroom. The company offers a wide variety of options. The paint offers eggshell, semi-finish, satin finish, and flat finish for your bathroom interior paint. The brand also gives you over 50 colors to choose from.
Pros:
Paint & Primer in One
Durable
Washable
Smooth Application
5 The Spruce Best Home Interior Paint: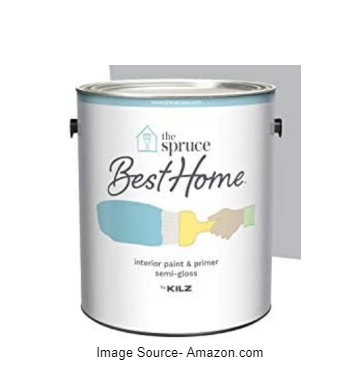 The Spruce Best Home Interior paint & primer in One is a premium and long lasting acrylic based paint. It is easy to apply with rollers, brush or spray. One of its features is that it dries fast and leaves your walls ready for another coat in under 2 hours.
Pros:
Low Odor paint
Offers semi-gloss shine on walls
Foolproof colors
Mildew-resistant finish
Easy to Apply
Blog Takeaway
Whether you are a novice in the field of paints or a seasoned pro, choosing the right paint for the bathroom is essential as it can go a long way and turn out great for your interior projects.
However, we are confident that you will keep in mind the above points we have discussed to achieve your dream bathroom projects.
We have also indicated some of our best picks that MGP has used and tested over the years. If you think we have missed any point, drop your comments, we would love to discuss them in our next blog. Happy Painting!