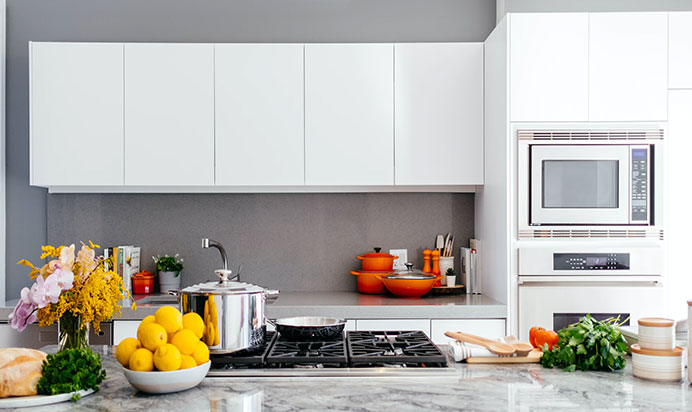 How Much Does It Cost to Paint Kitchen Cabinets?
Whether you are designing your luxurious kitchen, renovating cabinets, or making minor changes to make it look grander, you deserve professional painters that offer pristine services. There is no surprise to what repainting can do to your kitchen cabinets. Read How painting can improve your home value?
Of course, the benefits are considerable, as a small touch of kitchen cabinet repainting done professionally can give your space an imperial look without burning your pockets. But before you do that, you need to make up your mind what changes you want to make? Once, you have decided to get your kitchen area repainted, you might wonder, "How much does it cost to repaint kitchen cabinets?"
Don't worry! We have got the answers to all your questions. Each brush stroke is a decision well taken with us.
MGP paintings bring you easy-on-pocket prices to let you enjoy our interior painting services with a free mind. Our prices begin from as low as $10 to $20 per square foot of painting surface area. An average cost to repaint kitchen cabinets manually may range between $700 to around $3,500. Additionally, the prices depend on the cabinet size, layout, painting method, cabinet condition, and labour costs.
Building a home is a lifetime achievement that deserves tender maintenance from time to time. Every inch of the house, including doors, walls, bedrooms, kitchen, balcony, should remain beautiful. You know prevention is better than cure. Therefore, when it comes to repainting it, do not let inexperienced individuals ruin the beauty of your one in a kind abode.
While DIY is in trend these days, yet it fails to provide the touch-ups that professionally painted kitchen cabinets offer. There is no substitute for classiness. DIY ideas may tempt you due to their less expensive solutions and may offer temporary treatments, but they are not good options for the long run.
They might make you incur heavy losses by worsening the cabinet wood. It is best to repaint the cabinets to ensure they last longer than expected.
Is Spray Repainting Kitchen Cabinet Time Consuming? How Expensive Are They?
Painting kitchen cabinets can take a few days. From assessing the cabinet's condition to removing dirt, grease, repairing the damages, preparing for sanding, and finally vacuuming the area.
The average cost to spray paint prime kitchen cabinets from scratch to finish can cost up to $ 100 for less damaged cabinets. Cabinets are not just spaces to store your kitchen utensils but high-end kitchen accessories that enhance your house's ambience.
Our professional interior designers begin the kitchen cabinet repainting process by understanding your budget and your requirements. Then we present the estimated cost of painting kitchen cabinets. Once you agree to the prices, we initiate the work.
Replacing vs Repainting Kitchen Cabinets
Some kitchen cabinet damages are beyond repairable, while some need just minor changes. Conditions like- moisture, oxygen can damage wood severely, if left untreated for long. Lack of experience in the field and less-educated analysis of the damage can cost you big dollars. MGP services carefully investigate the damaged portions to evaluate the expected cost to have kitchen cabinets painted, replaced or repainted.
It is essential to identify painting services that provide you with the accurate and affordable estimated cost of painting kitchen cabinets professionally without keeping the buyers in suspicion. There are hundreds of money looters who do not mention the exact prices of painting services and ask the consumer to pay heavy amounts in the name of goodwill service.
These become the reason for customer dissatisfaction. MGP Painting service recognizes its clients as the most valuable assets and, most importantly, as our community members. Therefore, we maintain strict, transparent procedures to provide you with accurate kitchen cabinet painting costs to stay within your budget.
The prices as mentioned above for the kitchen cabinet repainting vary from services to services and from cabinet requirements. To know all about our How much does it cost to repaint kitchen cabinets? Services, you can contact MGP Paintings.
Get in Touch!
Are you ready to ready your home? We can get your home prepared for summer… All you have to do is speak with our professional home painters and tell them what it is you're looking for. You can request an estimate on our website or call 845-290-5284 to schedule a future appointment.