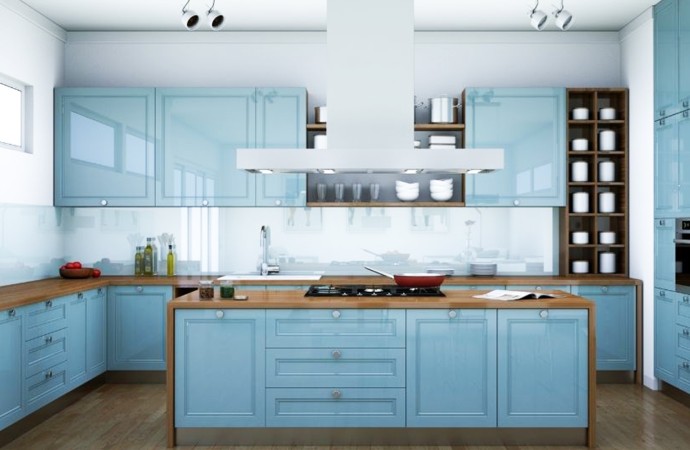 Kitchen Cabinets Painting Costs In 2023- MGP Painting
Are you tired of finding those paint peels on the floor every time you walk into your kitchen? It's probably that old paint falling from your kitchen cabinets. Don't worry; it happens a lot. Possible reasons can be:
a) Water leakage
b) Friction from loose hardware
c) Kitchen cabinet was not cleaned properly
d) The paint layer applied too thick
While this issue can be easily fixed by lightly sanding the chipped areas using a small piece of high-grit sandpaper, there is never enough you can do as these problems generally resurface every 3-5 years. A better way is to paint the cabinet doors with waterproof paints.
And before you ask, we know your next question: what is the average cost to paint kitchen cabinets?
Let us answer it:
Taking a gander at the industry's current norms, the price for painting kitchen cabinets has not experienced any major fluctuations from the previous year. Thus, professional kitchen cabinet painting costs can lie anywhere between $1700 to $3000.
But if you are not looking to buy new furniture and simply considering a simple revamp. You may also opt for repainting. And an average cost of repainting kitchen cabinets manually may range between $700 to around $3,500.
Is hiring a professional service better?
Well, to answer this question as honestly as possible, we believe there are a number of factors such as budget, square foot area, property's location, structure, and condition of the kitchen cabinets plays a crucial role.
Usually, a professional painter would be able to quote you a fair price or at least give you a close estimate to paint kitchen cabinets. Another thing that hiring a professional paint service will benefit you is by guiding you through the "pre-paint-preparation" steps.
Some advantages of hiring professionals for painting kitchen cabinets:
Endless color options: Paint companies have an unlimited range of options to offer. You can easily pick any color or ask for customized color options for your kitchen cabinets.
A touch of experienced hand: It may be your first DIY project or first time moving into a new house or any space; you might be prone to make some mistakes. Result? You may ultimately have to hire a professional to do the job. It is better to let experts handle the task.
Mess-free paint: The professional painters carry their tools which allow them to work as methodically as possible, leaving less room for messing up.
A Quick overview of Kitchen cabinet painting cost
$3 -$10- Cost per sq. ft
$50-$100 Per Door
$900-$3,000 Average Total Cost
Painting kitchen cabinets Vs. Refacing cupboards
Assuming that you may have thought about changing the look of your entire kitchen cabinet, there are options like refacing them. However, not many people wishing to renovate turn to refacing kitchen cabinets because refacing usually requires applying a thin layer of wood or plastic to cover the exposed frames and then replacing the door, hinges, knobs with new ones. Refacing is inherently more expensive than painting.
Calculating Kitchen Cabinet Paint Cost
So, if you have decided to paint your kitchen cabinet rather than refacing it, you are more likely to know the cost of painting kitchen cabinets. In order to see the cost of painting your cabinets beforehand, you need to know a few things.
Measure kitchen cabinet paint requirements
Measure the height and width of the doors
Multiply the height by the width to find the square ft
Repeat steps for the remaining sides
Add the numbers together to get the total square footage for the cabinet.
To calculate the entire price to be paid, divide the total number of sq ft 400 (as usually one gallon of paint cover 400 sq ft of the surface)
The answers the amount you may be required to pay
But if you are still unable to find the average cost or an estimate, you can reach out to a professional paint service company for a free estimate. That will help youtube arrive at a solid decision.
Why Choose MGP Painting Services?
Professional painters are typically trained, experienced, and authorized to convey quality paintwork for your home. They will walk you through the whole undertaking and offer guidance and proposals on painting designs, patterns, and substantially more. Recruiting a decent painting contractor may take some time, yet once you track down the correct one, painting your home can be a cherry on the top.
MGP Painting is a full-service, licensed painting contractor that offers the best exterior painting contractors in Orange County, NY to rescue you from all the painting mishaps. Most importantly, we are a dedicated team of individuals who care deeply about our clients and ensure timely completion of assigned work. We have earned a reputation as one of the supreme residential and commercial painting contractors in the community who consistently provide homeowners and businesses with first-rate interior and exterior painting services. For more info and professional assistance, contact us or give us a call @ 888.456.7532.