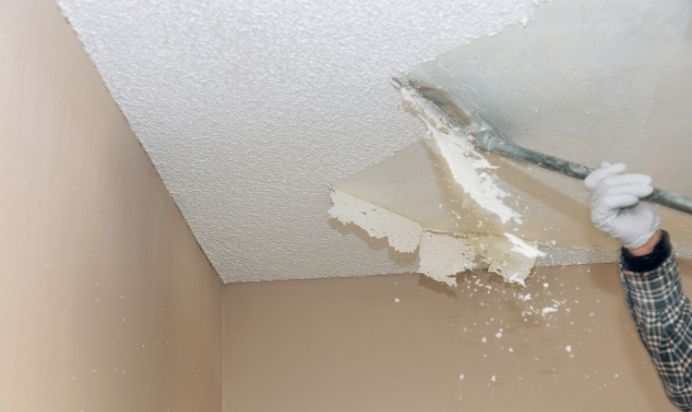 How To Remove Popcorn Ceiling
Known by many names such as stipple ceiling, stucco ceiling or acoustic ceiling, popcorn ceiling is a variety of spray paint. The texture is created using styrofoam or stucco to give the paint a bumpy surface reminiscent of popcorn. Thus, lending it the name popcorn ceiling. The style was quite famous in the early 1970s. However, its appearance is starting to diminish in the 21st century. One reason behind its less popularity today could be its tendency to offer more cons than pros. So, if you are looking for How to remove the popcorn ceiling, then you are at the right place.
Popcorn ceilings may be beneficial in hiding imperfections, deaden noises, and are less costly, but it is difficult to repair them, hard to clean, and honestly outdated. We highly doubt you would not end up with a few scratches on your body while attempting to remove the popcorn ceilings.
Why Popcorn Ceilings Became Less Popular?
Popcorn ceilings were, once, visible in almost every house of the United States in the 1970s. However, the fibers in the asbestos mineral are categorised as dangerous and can prove to be extremely harmful if inhaled. They may even lead to serious health risks.
According to Insider.com- "Throughout the 1970s, the Environmental Protection Agency began heavily regulating asbestos in different use cases in materials. Eventually, that led to a ban on asbestos-containing spray-applied surfacing materials, aka sprayed-on popcorn ceilings." As a result, by the early 1980s, the United States decided to ban asbestos containing products.
Cons Of Popcorn Ceilings
Popcorn ceilings were an attractive ceiling covering option but today, modern day interior designers are experimenting with newer designs. And the popcorn ceiling is certainly not amongst those new trends. Other than that, it is a smart idea to weigh the disadvantages which have led to the idea's unpopularity so quickly.
Repairing Is Not Easy- Another major disadvantage with popcorn ceilings is that its repairing can be quite challenging. In case of damages, popcorn ceilings are hard to maintain and require you to completely demolish the damaged portion and rebuild it to perfectly match the texture and color once again. In a manner, it tends to create the need to redo the portion from scratch to avoid inconsistencies.


Cleaning Is Tough- The surface of a popcorn ceiling is uneven and bumpy. It makes the cleaning hard. While cleaning the popcorn ceilings, you are prone to injuries given to the bumpy surface.


Toxins- You may not believe it but toxic paints can become the mystery behind your health problems. Even the air we breathe isn't pure 80% of the time. Popcorn ceilings are known to contain asbestos, a commonly acknowledged cancer-causing toxin. On the contrary, current painting industry standards have changed drastically bringing innovative paint designs and products.

These products are not environmentally friendly but also contain less chemicals to make the home atmosphere less toxicated. A growing concern of the leaders in building a safe environment for the future includes inventing more eco-friendly paints.
How To Remove Popcorn Ceiling?
After booking at all the disadvantages, let us get you straight to your query how to remove the popcorn ceilings. We have broken down the process into simple 5 steps which include testing the paint, your protection, gathering the tools, and painting the ceiling.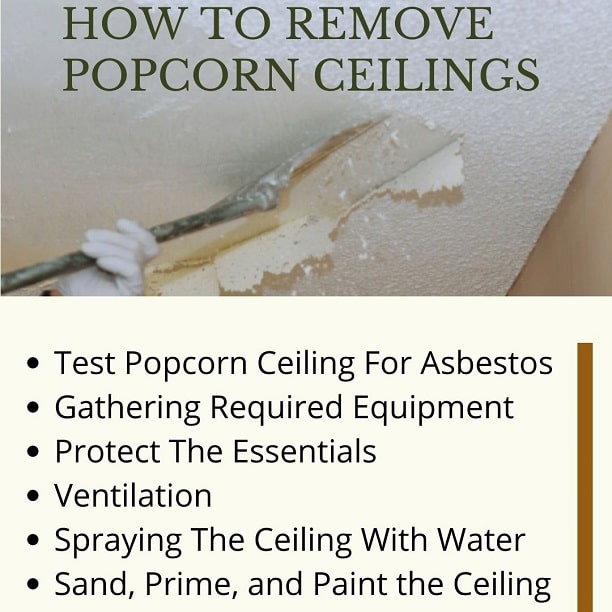 Test Popcorn Ceiling For Asbestos- It is highly advisable for you to ensure that the ceiling does not have asbestos. According to an article published by Architecturaldigest.com- Krzyston recommends "having the surface tested by a professional popcorn ceiling removing services or at the very least purchasing a do-it-yourself testing kit from the hardware store and sending the samples to a lab.

Going towards the DIY test route, ensure to buy appropriate safety gear, such as: eye protectors, thick gloves, dusk mask, etc. it will be beneficial if you watch a few videos beforehand. In case your ceiling tests positive, you must hire a licensed professional painting service team.


Gathering Required Equipment- Once, your ceiling is asbestos-free, you can begin with removing the popcorn ceiling with your tools all set. Fortunately, the task doesn't require any special tools. The tools already available at home might as well be sufficient.


Protect The Essentials- Removing the ceiling using scrapers can make a hell lot of mess on the floors. You should lay out drop cloths or tarps to protect the florrings. Other than that remove furniture from the room, and cover the sofa, beds, and other stuff using plastic sheets. Tape the walls before taking down the ceilings. And remove fans, air conditioners, and hanging light fixtures. Cover all the electric sockets well and seal them with plastic sheets to avoid dust and damage.


Ventilation- Working with popcorn ceiling can be troublesome in the absence of proper ventilation outlets. Never work in a closed area where there are popcorn ceilings. Before getting started, open the windows to allow air circulation.


Spraying The Ceiling With Water- Removing a wet scrape is easier than a dry scrape. For this, you may utilize a garden sprayer to wet the area of the ceiling. However, do not entirely soak the area as excess water could damage the underneath sheetrock. Start working in small sections for organizing the work. Wait for 15 minutes after spraying and then start scraping.

Use a wide putty knife or scraper or drywall taping knife to gently run it along the wet ceiling. Be careful not to gouge the ceiling beneath. Now start working your way all the way around the room to the edges until all the texture has been removed. Some areas may require a second time scraping. In some areas, you may need to make a second pass. In such a case, spray the area again to loosen the ceiling.


Sand, Prime, and Paint the Ceiling- Now, once the popcorn ceiling is completely removed, and you already have the floors covered, you may as well begin with sanding, priming, and painting. In case, there is any damage to the ceiling, repair it with a joint compound to cover up hidden imperfections, like visible joints or screws. After sanding the popcorn ceiling, apply the fresh coat to even the surface area. Once the paint job is complete, reinstall fans or lights, and enjoy your newly smooth ceiling.
Most people think that removing a popcorn ceiling is easy, but on the contrary it possesses uncalled for dangers that can harm your health adversely. Thus, it is strongly recommended to hire professional teams to best know How to remove popcorn ceilings before getting on it.
MGP's team of professionals guarantees you quality and expertise - they are just a call away! Schedule a FREE estimate today! Call 845.290.5284 or click here.