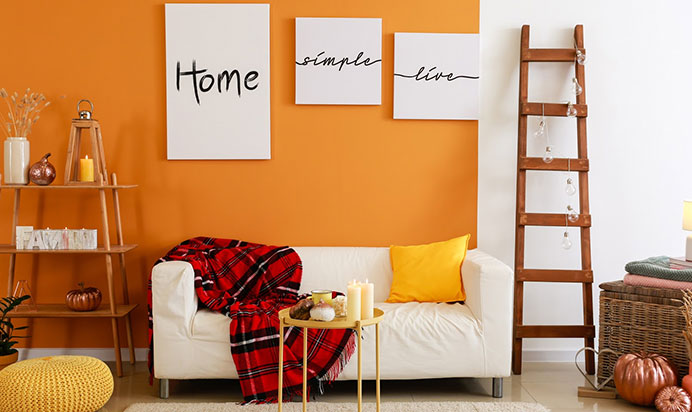 Fall In Love With Your Walls This Season
Fall is here, and colors are changing! Leaves are beginning to make their way onto our lawns and driveways. With a coat of paint, you can bring the colors of fall inside your home. As the season is changing, the traditional fall colors of oranges, reds, and yellows are becoming more prominent in our daily lives. Those rich harvest colors take the place of the greens of spring and summer, and you can make the interior of your home just as beautiful as the foliage outside, with the help of paint and accents.
Harvest colors are bold and striking. While the boldness of these colors is not for everyone, creating warmth in your home utilizing that palette can be a simple thing to do with the right touches. For the adventurous types out there, you can paint your walls with yellow and red tones, like pumpkin and goldenrod, for an immediate statement. Or, you can go deeper, with an aubergine or chocolate color. These warmer tones can bring life into a room quickly, but also require precise color balancing. The experts at MGP Painting can help you determine which fall colors go best together.
If you are going for something more subtle than having the whole room painted a solid harvest color, you can paint an accent wall to provide a pop of color. These colors can serve as a secondary color, to just bring in hints of fall into your home. If you decide you don't want to paint these colors, but still want a fall-like atmosphere, you can also just use reds, oranges, yellows, and browns in your decorative pillows or decorations.
These colors, while they give off a warm and cozy vibe, can be overwhelming in smaller rooms, as deeper colors tend to make a room feel smaller (and lighter, brighter ones open the room up for a bigger feel). You also may want to balance the intensity of the yellows and reds by painting smaller pops of contrasting colors, like softer creams and whites, to bring down the severity of the overall look. In contrast, if you paint your walls a richer, warmer fall color, then your accents should complement them to create a balance. When designing the interior of your home, the secret is to contrast and coordinate your colors.
Because we live in a region where fall colors come out brightly and boldly, we are experts in implementing those colors into your home. If you are thinking of "fall-ifying" your home your room scheme, MGP Painting can get the job done. If you need help choosing your colors (for any season), we're here to help. Serving Rockland, Bergen, Westchester, and Orange, you can trust our professional painting contractors to do high-quality work.
Get in Touch!
Are you ready to ready your home? We can get your home prepared for summer… All you have to do is speak with our professional home painters and tell them what it is you're looking for. You can request an estimate on our website or call 845-290-5284 to schedule a future appointment.