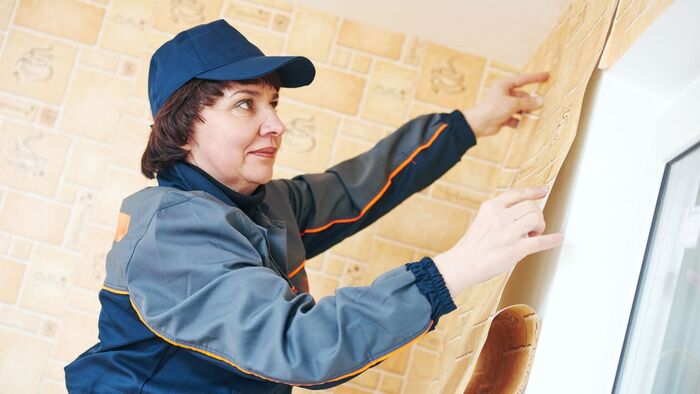 What to Expect from MGP's Professional Wallpaper Installation Service In Westchester?
In our years of wallpaper installation service in Westchester County, we have come across avid DIYers who do tons of research on how to hang wallpapers at home without professional wallpaper installers and end up achieving the bare minimum of accepted results.
We understand the social stigma around not hiring paint and wallpaper contractors because most homeowners think wallpaper installation is costly. But that is because most wallpaper contractors tend to make hanging wallpapers sound like a luxury service more than they should be.
At MGP Paintings, we are committed to helping every homeowner experience the best of wallpaper installation services near them. We are rated as the number one choice in wallpaper installation services for homes in Westchester.
What to Expect From Our Professional Wallpaper Installers?
We recently saw a Reddit post mentioning a couple spending weeks on a wallpaper installation that they wanted to do themselves. The couple went to their parent's house only to find the exact wallpaper done by pros in a single day and turned up a billion times better than they could achieve in weeks.
MGP has worked on tons of wallpaper installation projects in Westchester, and we know all the possible flaws you need to work with. This is probably one of the most distinctive features to expect from MGP's wallpaper installation service.
Understanding the Wall Conditions for Hanging Wallpaper Material
The basic idea behind choosing a wallpaper installation service is to hide the flaws in the wall.s you don't want to invest in expensive painting jobs and are looking for a durable solution in your budget. This is when wallpaper installation comes to the rescue.
But you know what? Hanging wallpaper on a wall also requires first analyzing the walls' condition. Why? Well, simply because if the wall is close to the bathroom, kitchen, or any primarily humid area, then your wallpaper might easily tear. That is why MGP wallpaper experts pre-examine your house's wall conditions and suggest that the wallpaper material will stick best.
There are different wallpapers available, including silk wallpaper, grasscloth wallpaper, non-woven wallpapers, etc.
Materials Needed for Wallpaper Installation Service:
For wallpapers installation, your wallpaper installer may ask you to provide a list of quality materials such as measuring tape, wallpaper glue, paper cutter, soft cloth, paint roller, safe step ladder, pencils, wall covering smoother, stainless blades, seam roller, etc.
While many don't know that materials used by wallpaper installers also give away the secret to achieving a seamless wallpaper installation job, one of our expert wallpaper installers, Andrea, recommended that to do a decent job, she usually has a built-in metal ruler along one edge, so it helps her stay sturdy. Simply using a roller and not a paintbrush also helps get the quick smoothness onto the wallpaper.
Eliminating wall imperfections prior to hanging wallpapers
Before wallpaper installation, the professional team of experts will remove imperfections or any irregularities in the wall. If there are some old wall coverings, they will remove the wallpapers that might cause the wallpaper surface to have a bumpy appearance.
Professional Wallpapers Equipped with skills
It is usually a protocol to have sufficient experience before an aspiring painter can join MGP. We take employee skills seriously. We understand our customers are looking to save time, so we ensure they do.
Investing in Professional Wallpaper Installation Saves Money
Installing wallpaper can be a fun activity but equally frustrating when you don't have much experience. We understand that a recent video might have motivated you to take the task into your hands, but don't make a mistake.
Those DIYers don't tell you that to make their videos perfect; they take dozens of shots and shots. But while you have just one go, it is better to call some help to bypass the frustration period.
No Cleaning Afterwards
A high-quality wallpaper installer in your area would ensure the work doesn't stop once the wallpapering is done, at least not with professional wallpaper installation service providers. MGP takes great pride in exceeding the expectations of clients. That means we stop our work only when we finish a task. We don't just grab our tools and pack up; we thoroughly clean your space and dispose of the bits properly so that you get a clean house instead of trash on your floors.
MGP Painting is a full-service, licensed painting contractor that offers the best wallpaper installation contractors in Westchester County, NY, to rescue you from all the painting mishaps. Most importantly, we are a dedicated team of individuals who care deeply about our clients and ensure the timely completion of assigned work. We have earned a reputation as one of the community's supreme residential and commercial wallpaper contractors who consistently provide homeowners and businesses with first-rate services. For more info and professional assistance, contact us or give us a call @ 888.456.7532.