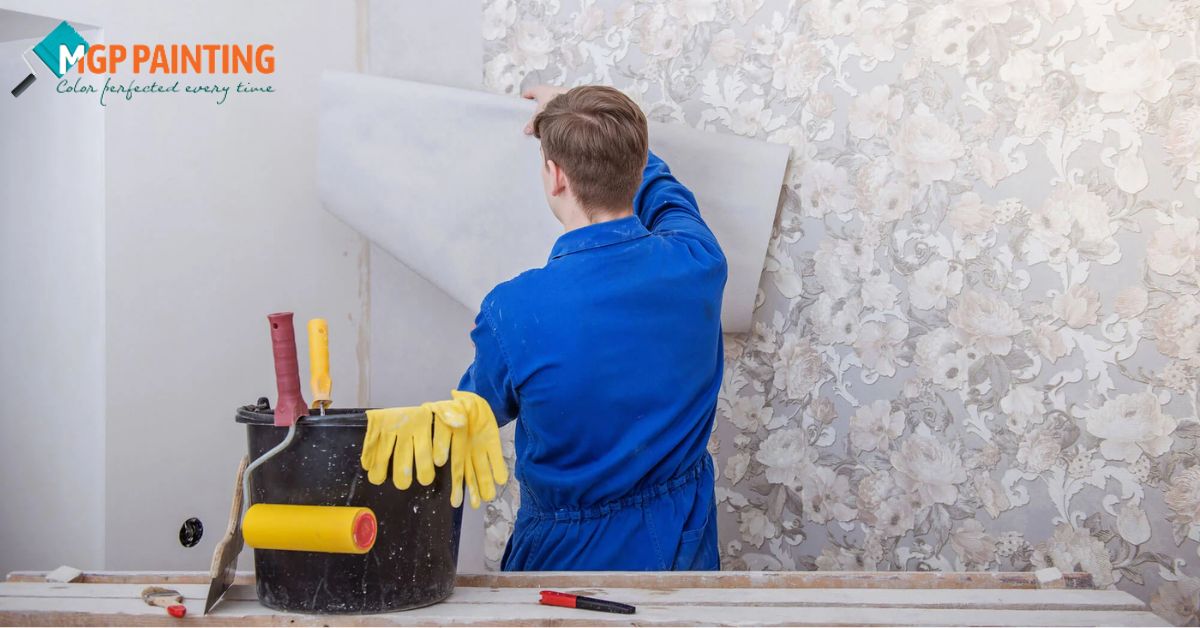 MGP Painting: Expert Wallpaper Installation for Stylish & Flawless Walls
In the world of interior design, the walls of a room serve as a blank canvas, ready to be transformed into a breathtaking masterpiece. A well-designed wall can elevate the aesthetics of any space, creating an atmosphere that reflects the personality and style of its inhabitants.
One powerful way to add depth, texture, and color to your walls is through wallpaper installation. And when it comes to expert wallpaper installation services, one name stands out from the rest: MGP Painting.
Welcome to the world of MGP Painting, where personalized, stylish, and flawless walls come to life. We are a highly experienced painting company based in New York specializing in wallpaper installation services.
Whether you're looking to revamp your home, office, or any other space, our professional wallpaper contractors near you will leave you awe-inspired and utterly satisfied.
Benefits of Wallpaper Installation
Wallpaper installation is a great way to enhance the aesthetics of your home or office. It offers numerous benefits that can transform your walls into personalized, stylish, and flawless works of art.
Durability: Wallpaper is known for its durability and longevity compared to paint. It can withstand wear and tear, making it an ideal choice for high-traffic areas or homes with children or pets.

Versatility: With a wide range of colors, patterns, and textures, wallpaper allows for endless design possibilities. Depending on your preferences, it can create a bold statement or a subtle backdrop.

Camouflage imperfections: Wallpaper can hide minor wall imperfections such as cracks, dents, or uneven surfaces. It provides a smooth and flawless appearance that paint alone may not be able to achieve.

Easy maintenance: Wallpaper is easy to clean and maintain, especially when compared to painted walls. Most wallpapers can be wiped clean with a damp cloth, making them perfect for busy households or commercial spaces.

Increased home value: Investing in high-quality wallpaper installation can significantly increase the value of your property. Potential buyers appreciate the added elegance and sophistication that wallpaper brings to a space.
At MGP Painting, we specialize in providing expert wallpaper installation services that guarantee personalized, stylish, and flawless walls. Our skilled professionals will ensure a seamless installation process that brings your vision to life. Don't settle for ordinary walls – let us transform your space into something extraordinary with our exceptional wallpaper installation services.
Types of Wallpaper for Installation
When it comes to wallpaper installation, the options are endless. From classic designs to modern textures, wallpaper offers a world of possibilities to enhance your space.
Here are some of the popular choices:
Vinyl wallpaper is a popular choice known for its durability and versatility. It is moisture-resistant, making it suitable for high-humidity areas such as kitchens and bathrooms. With its wide range of colors, patterns, and textures, vinyl wallpaper allows you to achieve the desired aesthetic while enjoying easy maintenance and long-lasting beauty.
Textured wallpaper is the way to go if you want to create visual interest and depth. From embossed patterns to faux finishes, textured wallpaper adds a tactile element to your walls. It can be used to create a stunning focal point or to add subtle elegance to a room. Textured wallpaper offers endless possibilities for creating a unique and captivating atmosphere.
The grasscloth wallpaper is a perfect choice for those who appreciate natural materials. This wallpaper adds warmth and texture to any space and is made from woven grasses or plant fibers. The natural variations in color and texture create a unique and organic look. Grasscloth wallpaper is ideal for adding a touch of elegance and sophistication to your walls.
If you love changing your decor frequently or are in a rental space, peel-and-stick wallpaper is a game-changer. This self-adhesive wallpaper allows for easy installation and removal without leaving any residue. With various colors and patterns available, peel-and-stick wallpaper offers a hassle-free way to personalize your space and experiment with different looks.
The Importance of Professional Wallpaper Installation Services
When it comes to achieving flawless and visually stunning walls, professional wallpaper installation is essential. While DIY may seem tempting, entrusting the task to experts ensures a seamless and professional result.
Here's why professional wallpaper installation is so necessary:
Wallpaper installers are the true masters of their craft. With years of experience and unmatched expertise, we have an innate understanding of every type of wallpaper. Our skills and knowledge enable them to overcome challenges effortlessly, delivering exceptional results that leave you in awe.
The secret to flawless wallpaper lies in meticulous surface preparation. Our wallpaper contractors near you leave no imperfection unnoticed as they meticulously prepare the walls. Cracks, bumps, and debris are banished, laying the foundation for a seamless and stunning finish that will take your breath away.
Achieving a perfect fit requires precision in measurements and cutting. With expert precision, professional installers ensure that your wallpaper aligns seamlessly without gaps or overlaps. We navigate patterns and corners flawlessly, resulting in a visually pleasing and harmonious look that enhances the beauty of your space.
MGP's wallpaper installers are armed with industry-leading techniques that bring your walls to life. We employ our tried-and-true methods, from selecting the perfect adhesive to ensuring precise alignment and banishing bubbles. With our expertise, your walls become a masterpiece of flawless installation.
Why waste time and materials on DIY attempts? Our Professional wallpaper contractors near your work efficiently, saving you time, effort, and potential frustration. Equipped with the right tools and expertise, we complete the job promptly, minimizing disruptions to your routine. Sit back, relax, and watch as your space transforms stress-free.
Conclusion
Your walls are waiting for a transformation that only MGP Painting can provide. Don't wait another day to elevate your space with flawless wallpaper installation. Experience the magic of professional wallpaper contractors near you, discover your signature style, and turn ordinary rooms into extraordinary spaces.
Visit our website at mgppainting.com today to book a consultation with our experts. Time is of the essence – let's embark on this exciting journey together and bring your dream space to life with MGP Painting!