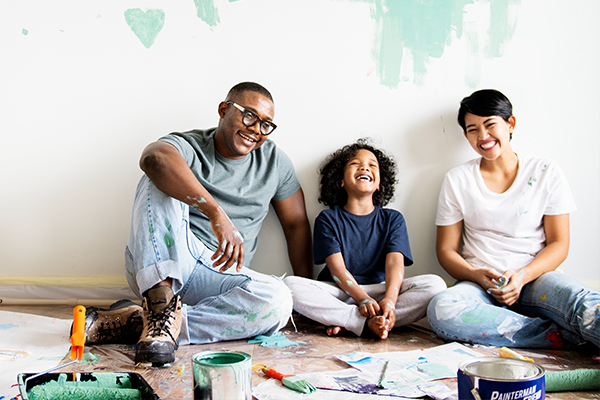 How to Ensure Child Safety While Painting Your House?
A child's creativity has no bounds of expression. He can either express it on a piece of paper or a wall. A study by Renk Etkisi indicates that colors encourage a child's imagination, improve brain development, stimulate productivity and learning. But, the same colors can prove to be dangerous to a child's health when painting the house. The harmful toxins such as lead, VOC, Carbon released by factory-manufactured paints can be toxic if inhaled by the child. Thus, it is crucial to be mindful of a few things when painting your house.
Is it Safe For Kids To Help Paint?
The Environmental Protection Agency has a regulation called 'Renovation, Repair and Painting' (RRP) regarding child-occupied buildings. According to the rule, contractors performing renovation, painting, and repair in children-occupied buildings built before 1978 must obtain a government certificate before beginning the work practice.
As far as the safety of children is concerned while painting, it is usually observed that children as young as preschoolers can help paint the lower half of your house walls. Parents/ guardians are encouraged to ensure safe exposure to paints for children.
When children are younger than 3 years, schedule the paint when children are not present at home or away for a few hours. In addition, supervise young children and guide them to be careful around paints. It is advised to keep edible items and drinks far from where you use or store paints.
Can Paint Fumes Harm an Unborn Baby?
The chances are improbable that being around paint if you're expecting will harm your unborn child, as the danger from most current household paints is minimal. However, the threat of mischief to your child might be marginally more noteworthy if the paint is dissolvable and contains hints of lead. Consequently, you ought to abstain from using dissolvable-based paints and practice caution while stripping old paintwork if you're expecting.
Can a Toddler Sleep in a Freshly Painted Room?
It is generally advisable to wait for two to three days before the house is ready to have toddlers sleep in the new freshly painted room. This is because the paint releases harmful toxins till it's wet. However, you can minimize the risk of toxic releases by choosing less fume-releasing paints. Also, to help the paint dry faster, ensure proper ventilation in rooms.
Ensuring Child Safety procedures while painting the house
In the current pandemic, people are spending more time at home, and even children are encouraged by schools to pick up creative projects that can satisfy their curious intents. Painting the house is almost the first preference when it comes to stimulating artistic expression in children. But here are a few noteworthy points before you pick up the paint rollers.
Check the paint can Labels for information- while in today's paint manufacturing industry, it is good to hear the word-organic most of the paints contain harmful carbon. In addition, VOCs (Volatile Organic Compounds) in paints until they are dry release chemical fumes. These fumes react with gases present at room temperature to create a ground-level ozone layer in the area. Exposure to VOC-filled paints can bring detrimental effects on health.
It is recommended to pay attention to the paint label and read the information carefully. Another trick is to selectively begin your search and look for "non-toxic" labels to prevent the immediate risk of poisoning.
MGP Painting Pro Tip- Look for the "AP" (Approved Product) label on paint boxes which signify the paint certified non-toxic by the Art and Creative Materials Institute. Also, check for the "CL" for "Caution Label," which signifies the product is not appropriate for young children.
Maintain proper procedure before proceeding with painting- Because house paints can release harmful VOC fumes, schedule a time for paint when children are not at home. You can even plan the painting task when your children are away for summer vacation trips or spring break trips.
Here are few points to note before beginning with house painting:
Choose VOC free paints
Cover the floors well
Ensure paints are properly stored far from children's reach
Make sure children's food items are no way near paint boxes
Guide children to be careful around paints
Cover your face
Wear proper kits
Hire Experts- A professional painting service will supply and evaluate the house paint job requirements, and as suggested by you, only bring CL label paints. These paints do not contain harmful ingredients. Professional hirers will also guide you about which paint contains highly toxic metals, chemical solvents such as methyl alcohol. A report by Green America suggested that risks of painting with fumes include blindness, damage to the kidney and liver.
Children tend to be more vulnerable to such poisonous paints because of their small size and underdeveloped organ systems, putting them at greater risk for problems.
Ensure Paint Supply Care- Paint supplies can get sullied with microorganisms or shapes as they age when not stored as per guidelines. Ensuring legitimate consideration of measurements can forestall medical issues that deadly forms and microscopic organisms can cause.
Even though you store the paint properly, untreated molds can be ingested by children causing stuffy nose, diarrhea. In worst-case scenarios, it can cause hypersensitive allergic reactions prompting sinus or respiratory issues.
Thus, you should ensure to store the painting items in proper places marked with the date of purchase. Look at the care guidelines on the imprint compartments. If you really want to let your children accompany you in the process, do not let them directly dip their hands in the paint can. With supervision, you can carefully pour the amount of paint you think they will need.
Prevent Emergency- In case of any medical emergency, keep a public medical emergency response number that will guide you on what to do if any child is exposed to harmful chemicals. Have the item removed from the child's proximity and remove the toxic substance to prevent worsening the situation. Children's Hospital of Philadelphia suggests that you keep the item's name in front of you before calling the emergency helpline.