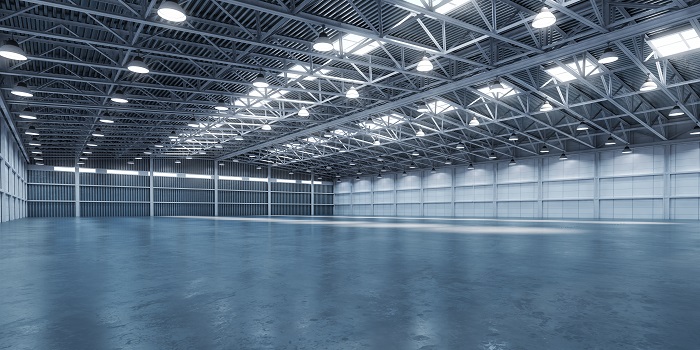 Warehouse Ceiling: Best Painting Options
Warehouses offer to shelter large quantities of goods and products to be stored before they are ready to be shipped to their target destination or customers. The functionality of warehouses involves providing sufficient space to store raw material, maintain the right temperature for perishable items, and much more. This makes way for lots of wires required for centralized air conditioners, lightings, pipes, temporary metal frames, etc. to be installed in warehouse ceilings. As a result, all the piles of wirings pop out of roofs.
In addition, warehouse ceilings exposed to open wires can prove to be fatal for the hired workforce. That is why space owners are encouraged to cover these wires by installing warehouse ceiling panels. But these panels are often available in limited color options. For owners, who always want to look, professional space holders, MGP brings you the best painting options.
Which color paint do builders use on warehouse ceilings?
The most common preference by warehouse builders is to go with white paint. Ceiling paint isn't like regular wall paint. They are much thicker and designed to offer better grip and dry quickly. Plus, white ceiling paint provides a clean and uniform finish.
Benefits of White Ceiling Paint:
Most of the warehouse owners go with white paint ceiling as white color frequently reflects light and brightens up the space with minimal lighting.
White paint on ceilings helps space or an area appear bigger.
The white color compliments other contrasting colors.
Painting a ceiling white can make the space wall appear taller.
White ceiling paint can be mixed with colored shades to create a lighter or different texture.
Read Related Post- How to choose ceiling colors for your living room accentuating walls?
Best Painting Options for Industrial Warehouse Ceilings
Now that you know white is the most preferred choice, let us see some more painting options for your warehouse ceilings. MGP's commercial warehouse ceiling painting caters to all businesses and organizations. From manufacturing facilities to retail stores, we have worked on thousands of projects including corporate warehouses.
No matter how you want your warehouse ceiling to look, we will encourage you to participate in each step of the painting process. We understand painting a commercial warehouse ceiling is a specialized job and should only be handled by a reputable and professional painting company like MGP.
High Set-Ups Warehouse Ceiling Lights Paint
For structures that have extremely high-set ups, professional painters might need to make available some equipment like lifts to ensure complete paint coverage. These ceilings are often too high and can be painted in any color of your choice. But what still matters is the finish.
MGP experts suggest three paint finishes for warehouses and industrial buildings:- Satin, Semi-gloss, and High-gloss.
In a high arrangement, the expert painters require lifts or platforms to reach the ceilings. This interaction probably won't be just about as fast as a simpler to-arrive at the roof (under 2-3 stories) where shower or dry fall can be utilized, yet an extraordinary business ceiling painting service provider will ensure that the paint task is finished completely and securely with this kind of approach.
Splashing roofs
In certain workplaces or retail spaces, a business office painting group may simply have the option to splash the roof in your preferred paint shade. This choice is extraordinary for lower roofs or roofs where you need a smooth, proficient completion done rapidly.
Hand painting
Hand painting a business roof is ordinarily saved for roofs that as of now have a ton of detail (think more established structures with tin boards or complex engineering subtleties). You might require an expert with a consistent hand to impeccably paint every one of those unpredictable turns and whorls or to paint around woodwork. We've additionally had a few customers who need wall paintings or pictures painted on the roof, and hand painting is the best way to go here.
Experienced industrial warehouse ceiling contractors will guide you with the best methodology for your roof and business. Your structure may be a simple "shower and go" or you may require a long time of fine detail work. Regardless, a legitimate business roof painting organization will consistently:
Find and fix any harmed regions prior to starting to paint, or suggest an expert project work if the extent of the harm is excessively huge for their aptitude
Cautiously spotless and prep the region to be painted
Exactingly cover and secure your work area and hardware, which could incorporate moving all gear out of the space, if conceivable, or concealing or covering everything admirably
Take care to do the task as fast as conceivable without compromising quality and…
Try to tidy up with an eye for detail so you can get back to fill in as fast as could really be expected
In case you're prepared to discuss painting your business building roof, painting an eatery roof, painting a congregation roof, or painting an uncovered roof, contact an expert business painting organization in your space. Many will offer free statements and will endeavor to ensure the task is done rapidly so you can return to business.
Why Hire MGP Painting Services?
Our MGP painting experts continue to develop high-end services insisting upon durability and fewer environmental impacts. If you are searching for professional interior painting services, we suggest getting our expert consultation for your home painting projects that you have been procrastinating.
MGP painting is a perfect solution to all your house painting needs. Let us paint your dreams and experience problem-free and smooth residential painting services that last longer. We are more than happy to help! Contact us @ Call 845.290.5284 for expert help.