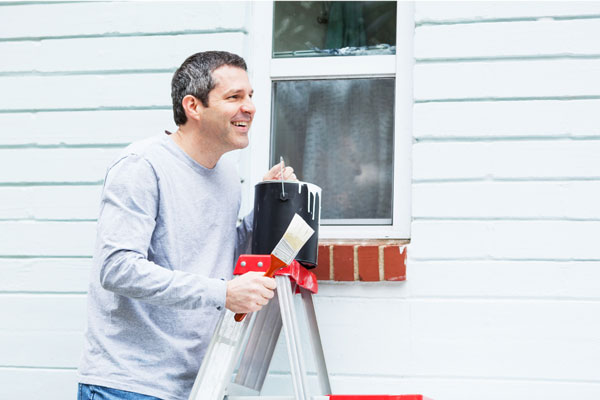 Which Season Works Best For House Exterior Painting
Interior painting of the house can be done in any season of the year. But when it comes to exterior house painting, there are a few things that need due attention. You need to take the climate conditions and dampness level into consideration for best results. Thus, you can't undertake exterior house painting tasks at any time of the year. You need to adjust around the climate and search for the best Conditions to guarantee consistent work. So which season works best for house exterior painting?
It's crucial to pick the finest exterior house painting services for outstanding results. In the following blog, you will find the answer to which season works best for your house's exterior paint. By the end of this blog, you'll be aware of the climate significance for exterior house painting. If you're considering exterior house painting, scroll till the end. We have also listed a few pro tips in our blog for you to check out before you get on to the work. Enjoy reading MGP Expert Pre-painting Tips to get the best.
Best Time To Paint House's Exterior: MGP Expert Talks
It's fundamental to pick a season for deciding to paint the exteriors at the right time. Neglecting to do so can call for unwanted wrecks and crumbles. Choice of a suitable time and season is helpful since it will save your cash and duration of painting tasks. Below we have explained the best climate and season to paint the house exterior:-
1. Identifying Suitable Climate Conditions: Hot v/s Cold
The significant degree of dampness in summers can compromise the capacity of the paint to dry. While it's better to stay away from stormy days and seasons to ensure all surfaces are dry before beginning exterior paintwork. For a heads up, pick the time of the season that gives sufficient time for your paint to dry. Significant variances from day to night temperatures can make the paint to break and strip out.
It's a smart move to estimate the climate before you go around the day you choose to paint exteriors. Unfortunately, if it rains just after the application, it can cause terrible blurring and discoloration. Allow your exterior walls to dry before carrying out any next coat of paint. It will save your pockets from unnecessary investments.
2. How Winters Are Elite For House Exterior Painting:
While discussing the best season to paint, winters are considered more suitable for exterior painting. But why is that, and how is it superior to other seasons? Don't juggle your mind, we are discussing here why most american home owners consider winter season as best.
Winters offer the best conditions for house exterior painting. Mugginess is probably low, except if you live in a spot that encounters snowfall. Humid weather may bring about stripping off the paint or breaking later on. Since the dampness/ humidity usually is low during winters, it allows the paint to stick and make a superior bond with the walls. Painting during high-mugginess climates or stormy seasons makes it hard for the paint to dry equitably.
Winter Offers Best Climatic Conditions For Painters
Nobody wants to stand out completing exterior house painting while it is pouring or blazing outside. Winters offer the best suitable climatic conditions, and our experts at Mgp painting suggest it's the perfect season to paint your dreams. Anyway, why not choose winters to plan a home improvement project that you have been contemplating? Excellent climate conditions additionally decrease the time needed to finish paint tasks.
3. Significant Pointers For House Exterior Painting:
While planning to change your house's exterior, it's essential to know significant factors that fulfill your painting dreams. A complete study and research of house painting are vital to accomplish the best results. Now let's walk through the significant pointers for house exterior painting:-
Search Best Weather Timings
Most of the unskilled painters attempt to extend the painting season as much as possible and suggest re-painting regardless of the appropriate climate conditions. So it's better to seek a professional team that guides you appropriately regarding choosing the best season with no significant fluctuations in the temperature. A day with no downpour, typical weather, and the low wind is your best ideal exterior painting opportunity. Researching will also guarantee issue-free paintwork and predictable completion of projects on time.
In a perfect world, exterior paint may last for at least five years. However, you can elongate your exterior paint's longevity for more than ten years without a repair by utilizing quality paints. Suitable quality paints offer waterproofing advantages, antifungal exterior emulsions, and a one-stop-answer for all your house's exterior painting necessities. Moreover, with quality and a 10-year guarantee on color, exterior emulsions are a sure thing.
Why Is MGP Painting Your Best Option?
We understand specific home improvement needs and plan projects as per the customer requirement and offer expert exterior house painting solutions for your dream house. Painting is more troublesome than you might suspect. Mgp painting services offer the best exterior house painting services in Bergen County, NY, that rescues all your painting needs.
It isn't just about applying a new layer of paint now and then. You need to consider multiple factors and components: waterproofing, leveling, mortar fix, appropriate assurance, and emulsions to guarantee a proper completion. Exterior painting may put you in danger of mishaps like- tumbling from high floors, and if you aren't an expert, it's not a good option to tackle this issue yourself to save some dollars. Let MGP experts handle the trouble.
If you are searching for professional exterior painting services , we suggest getting our expert consultation for your home painting projects that you have been procrastinating. Mgp painting is a perfect solution to all your house painting needs. Let us paint your dreams and experience a problem-free and smooth composition service that lasts longer.
Why Choose Our Services?
At Mgp Painting, we deliver five-star quality exterior house painting services without the five-star price! We have a dedicated team that completes each job within your budget and timeframe. You can anticipate amenable and proficient customer assistance and great work tailored to suit your house's requirements. We will likely surpass your expectations with the shifted and broad scope of home improvement arrangements we offer. What's more, we know paint, and we understand how to help you achieve the look you desire. Read our blog- Do's And Don'ts Of Painting When You Want To Sell Your House if you're planning to repaint your house because you're selling it.
MGP's team of professionals guarantees you quality and expertise - they are just a call away! Schedule a FREE estimate today! Call 845.290.5284 or click here.