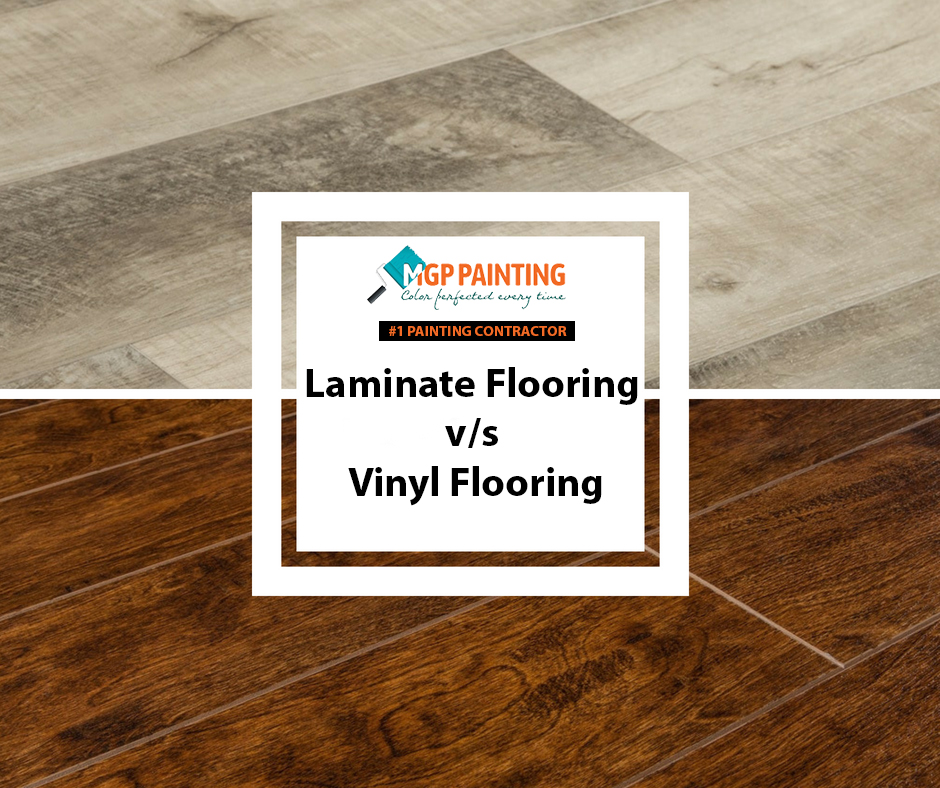 Laminate Flooring v/s Vinyl Flooring
Laminate and Vinyl are popular choices usually designed to look like natural hardwood or stone. They're often mistaken for real wood, and most people can't tell the difference between the two. So, we want to bring down the difference to help you make your decision easier.
Laminate Flooring
Laminate is an excellent choice for those who want to mimic natural hardwood without sacrificing their bank account. It's solid without giving movement, just like traditional hardwood. Laminate is typically composed of four layers.
Backing layer- This is the backbone of your plank. It is also referred to as a stabilizing layer.
Core layer- This layer is made with either high-density or medium-density fibreboard. Higher quality laminate comes with a higher density core. It is more moisture-resistant than the medium-density options.
Print layer- This layer makes the laminate look like wood, stone, metal, and more. It can also include rougher, more natural-looking scrapes like hardwood floors.
Wear Layer- This layer protects your floor and keeps it looking fantastic after a decade and more.
Vinyl Flooring
Vinyl is often mistaken for laminate. That is because it is quickly taking over the market with more realistic wood and stone looks than ever. Vinyl is also less high maintenance than laminate. Like laminate, Vinyl typically comprises four layers using different components.
Backing layer- This is the backbone of the plank.
Core layer- This layer is solid Vinyl. These cores are high-density moisture-resistant and built to last.
The Printed Vinyl layer- This is the layer where your style and design come from. It can mimic wood, stone, and other natural materials.
Wear layer- The thicker the wear layer, the more protection you'll have for your floor.
Cost Difference Between Laminate and Vinyl
There is not much of a price difference between laminate and vinyl. The top-end luxury vinyl you may pay a little more for than a top-end of laminate. That is because the highest quality luxury vinyl often includes a waterproof core and ultra-thick wear layer.
Read Related Post- How Much Commercial Paintings Cost?
Installation Cost Difference Between Laminate Flooring and Vinyl Flooring
It is essential to discuss installation costs with your installer. Most laminate is installed as a floating floor which means you don't need any glue, tape, etc. You just lay down right on top of your existing base, making it a super DIY-friendly option.
On the other hand, Vinyl ranges and has several installation types, including interlocking, glue down, floating, and lay at varying difficulties.
Usability Difference Between Laminate Flooring and Vinyl Flooring
Laminate- Laminate is incredible for places with little to no moisture. The floor is nearly as resistant to moisture as vinyl.
Vinyl- This flooring can be installed anywhere: bathrooms, kitchens, basements, etc.
How to pick the best option from Laminate Flooring v/s Vinyl Flooring
You can compare luxury vinyl flooring with laminate flooring based on four key areas:
Testing parameter

Laminate Flooring

Vinyl Flooring

Durability

High durability
Dense layers
Dent resistant

Durability is less than laminate
Soft layers
Prone to damage

Water Resistance

Aesthetic

The more realistic visual of wood quality

More variations available
Does not match actual wood visual closely

Environmental Impact

Vinyl is harder to recycle, and manufacture

Price

Big price range available
Expected price $2.50-$4.50/square foot

The price range depends on the installation method chosen by customers
Expected price- $3.50-$5.50/square foot
Laminate Flooring v/s Vinyl Flooring Pros
Recommended installation areas: While vinyl flooring is suitable for all house areas, laminate flooring doesn't work longer in places like bathrooms, basements, and laundry rooms. Vinyl can handle puddles of water much better than laminate.
Real wood illusion: Laminates are better to give you the wood-like illusion as they're primarily designed to mimic real wood options with similar grain and texture.
Care and cleaning: Laminate flooring is best cleaned using a dry mop or brooms. Vinyl flooring is easy to clean with a wet mop. You can vigorously scrub the vinyl surface with safe cleaning products.
Maintenance: Laminate flooring requires high maintenance. Vinyl is lower quality and rigid material that can stand high traffic.
Why Hire MGP Painting Services?
Our MGP painting experts continue to develop high-end services insisting upon durability and fewer environmental impacts. If you are searching for professional interior painting services, we suggest getting our expert consultation for your home painting projects that you have been procrastinating.
MGP painting is a perfect solution to all your house painting needs. Let us paint your dreams and experience problem-free and smooth residential painting services that last longer. We are more than happy to help! Contact us @ Call 845.290.5284 for expert help.