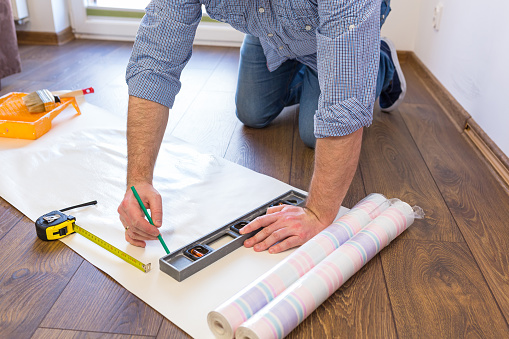 WALLPAPER INSTALLATION SERVICES - MGP PAINTING
Wallpaper is increasingly becoming a sought-after option by American homeowners, entrepreneurs, hotels, and other industries. Advance technology, increasing construction activity, and the launch of new geometric patterns, colors, and intriguing textures transform home decor and the ways interior designers design homes.
Wallpaper industry insights indicate that the wallpaper market is expected to register a CAGR of 3.59% during 2021-2026. And why not? They are cost-efficient, available in variety, easy to apply and remove. So, if you have also been looking for wallpaper installation services nearby, you have just landed on the right page.
Wallpaper and Painting Services: Hopping on the New Trends
A projection by Global Industry Analytics, Inc. indicates that the wallpaper removal and installation services market is expected to reach $36.6 billion in the next four years. The trend is accelerating.
We see the boom in the wallpaper covering industry because of its do-it-yourself or DIY home decorating quality. One can notice the explosion of unlimited paint and wallpaper Youtube videos analyzing pros and cons of Wallpaper vs. Paint: Which one is a better option for walls?
Interior design icons like JoAnne and Chip are hopping on the trend of wallpaper installation services and influencing installers looking to get an edge in the wallpaper market. You can even discover tricks and hacks for easy wallpaper installation if you don't have the budget.
Professional Vs. DIY Wallpaper Installation Services
While it's a good proposition to try and install wallpapers yourself, it's best to leave the job at the hands of a professional. DIY plans are usually based on curiosity to try new things guided by youtube tutorials. However, things can take a different turn quickly when you are handling the task singlehandedly.
Additionally, here are five reasons to hire a professional to install wallpapers:
Accurate Roll Requirements for a Wall: With a professional wallpaper installation services provider, you welcome an expert team experienced in scaling walls and measuring the wallpaper rolls required for the job. You don't have to believe your guts and take guesses. Additionally, wallpaper rolls come in various sizes and lengths, confusing you when buying them online.
Quick Installation Process: One of the benefits of hiring a professional wallpaper installed is that you get the job done quickly. Years of experience in the same field allow painters to know their way around their work without a hiccup.
Right Tools and Equipment: Just like painting, wallpaper installation requires surface preparation. Unfortunately, if you don't know the right techniques to prepare the surface before wallpaper installation, you can experience easy tears and damage within a year of wallpaper covering. Wallpaper installers design a strategy to ensure the fewest gaps and corners are visible and perfectly apply the adhesive.
Wallpaper Installation Cost: DIY methods never give you an estimate of the wallpaper roll requirement, and you end up miscalculating the costs. However, professional wallpaper installers pay physical visits to inspect the room size and give an accurate idea of the expected cost.
Wallpaper Removal Services: Professional painting companies also offer wallpaper removal services. If you have a pre-installed wallpaper you are looking to upgrade, do not begin removing the wallpapers using a pointed or sharp object as it involves risks of denting and scratching the surface. Instead, you can ask your painter for an easy wallpaper removal solution as well.
Discovering The Best Wallpaper Installation Near Me
Identifying a credible perfect wallpaper for your wall can be a tedious task due to the availability of millions of thousands of options. It's always an overwhelming experience picking the best texture, style, color theme, thickness, fabric, material, and right design that makes your walls look perfect. Not anymore.
MGP Painting and Wallpaper services bring you the best wallpaper solutions in the house. Literally! We extend our interior and exterior wallpaper installation services in Rockland Country, Westchester County, Orange County, New York, Bergen County, and New Jersey.
Happy Customers
Samantha F. Westchester Homeowner- "My 125-year-old Victorian had crackling plaster walls and centuries of wallpaper that was becoming a nightmare to take down. MGP removed all the wallpaper, repaired the walls, and put up new paint colors, all within two days. What would have taken me quite a few weekends of hard labor took them only a few hours. It looks beautiful, and my walls will be ready to go for another 125 years."
Katheleen W. Pearl River, Rockland County- Moises and his team were amazing! They were truly professional, kind, neat, and a pleasure to work with. A wonderful team and they do an awesome job!!
Take a look at our MGP Gallery for the project we have handled.
Conclusion
Today, homeowners are exploring the Wallpaper Installation services for the ease of operations, access, and variety they offer.
But since a home is built once and you cannot afford to invest all the budget into wallpaper installation, you should always hire a service provider who has apt experience in the field.
MGP painters and wallpaper installers are a team of confident members with years of experience in the field.
Suppose you hire a residential or commercial painting and wallpaper contractor who services the entire Hudson Valley, NY and Northern NJ area, including Orange County, NY – Rockland County, NY, Westchester County, NY, and Bergen County, NJ. In that case, there is no better choice than MGP Painting, Inc. Call us for a free quote today!