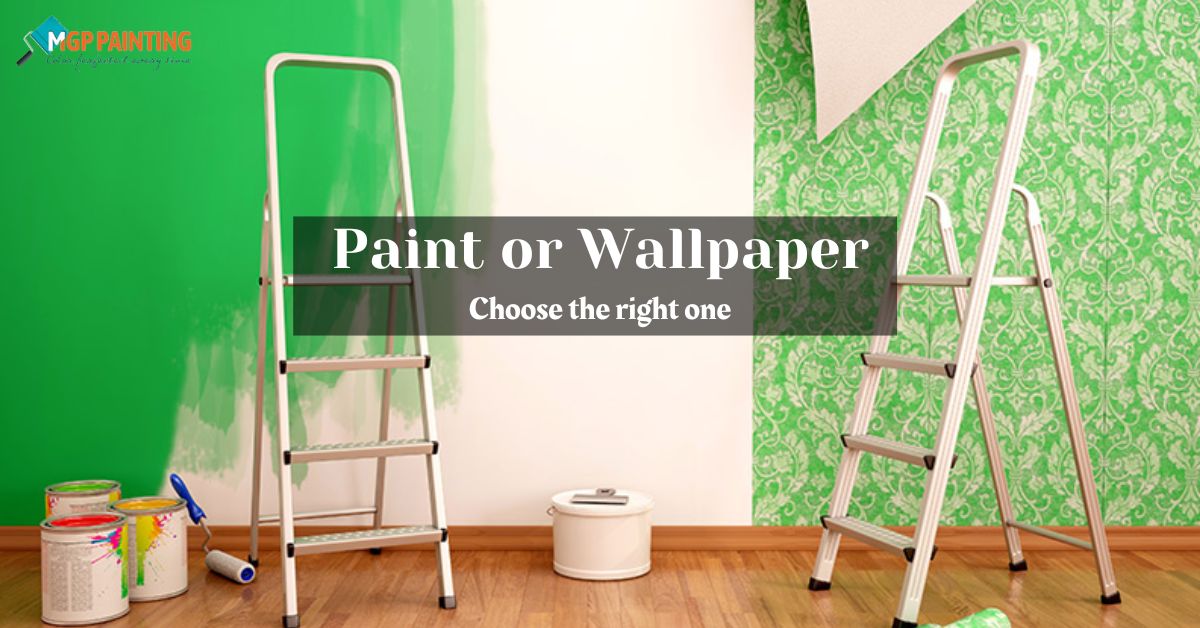 Choose Between Paint & Wallpaper Installation Services: The Ultimate Guide By MGP Painting
Are you tired of your dull, outdated walls?
Do you dream of a space that reflects your unique style and personality?
Well, look no further! MGP Painting is here to work wonders on your walls, offering seamless transformations that will leave you in awe.
Whether you're pondering the classic choice between paint and wallpaper or considering a fusion of both, we'll help simplify the decision-making process. The right choice of paint or wallpaper can enhance the atmosphere, add personality, and create a sense of style. To ensure a flawless and seamless result, it is crucial to rely on the expertise of professional painting and wallpaper contractors near you specializing in wall transformations.
From the advantages and disadvantages of each option to our expert wall transformation process and success stories from satisfied clients, read on to learn more.
Paint or Wallpaper: Choose the Right Option For Your Walls
"Paint or wallpaper?'' The never-ending debate! Who knew choosing between these two effortless options could be so mind-boggling?
It's a decision that will shape the course of your life forever. Okay, maybe not forever, but it does make a difference in a space's overall look and feel.
But worry not! We're here to simplify the decision-making process. Let's explore the pros and cons of each option:
Paint:
Advantages:
- Versatility in color choices: Paint offers a wide array of color options, allowing for customization and easy coordination with existing decor.
- Easy application and maintenance: Painting walls is a relatively simple process; touch-ups or repainting can be done quickly.
- Cost-effective option: Paint is generally more affordable than wallpaper, making it a budget-friendly choice, particularly for larger surface areas.
Disadvantages:
- Limited patterns and designs: While paint offers versatility in color, it needs to be improved regarding the intricate patterns and designs that wallpaper can provide.
- Regular maintenance: Painted walls may require periodic touch-ups or repainting to maintain their appearance and freshness.
- Concealing imperfections: Paint may not effectively hide wall imperfections such as cracks or uneven surfaces, requiring additional preparation or repair work.
Wallpaper:
Advantages:
- Wide range of patterns and designs: Wallpaper offers an extensive selection of patterns, textures, and designs, allowing for unique and striking visual effects.
- Enhanced durability: High-quality wallpapers are known for their durability and resistance to wear and tear, providing a long-lasting solution.
- Hiding wall imperfections: Wallpaper can effectively hide wall imperfections, making it an ideal choice for older or uneven surfaces.
Disadvantages:
- Higher cost: Wallpaper, especially high-quality options, tends to be more expensive than paint.
- Professional installation required: Proper wallpaper installation requires skill and expertise to ensure a smooth, bubble-free finish.
- Removal challenges: Removing wallpaper can be time-consuming and may damage the wall surface if not done correctly.
Let's settle the debate and find out what your heart truly desires. When deciding between paint and wallpaper, consider the room's size and purpose, the existing decor, and the desired mood or ambiance. Ultimately, the choice comes down to personal taste and style.
We know, that doesn't exactly answer your debate between wallpaper and painting. If you're still stuck deciding between wallpaper and paint, MGP Painting is here to help in deciding which route to go.
Our team of experts can help you make a decision that's right for your home. With us, you don't have to compromise and also enjoy the benefits of paint and wallpaper without the drawbacks. We're here to listen and address any queries, so please contact us at info @mgppainting.com.
Do You Really Have To Pick One?
Absolutely not! You don't have to limit yourself to just one choice! Both options bring their unique charm and benefits to your living spaces. So, why not combine the best of both worlds?
Opt for an accent wall with a mesmerizing wallpaper pattern, while complementing the rest of the room with a fresh coat of paint. This harmonious blend will add depth and character, striking the perfect balance in your home decor.

To achieve this perfect fusion, enlisting the expertise of a professional wallpaper and painting contractor is paramount. That's where MGP Painting shines as your trusted partner in transforming your walls.
With our expertise in both paint and wallpaper installation services, we offer comprehensive solutions tailored to individual preferences and requirements.
Seamless Wall Transformation Process
Our wall transformation process ensures a smooth and flawless outcome, leaving your walls looking as good as new. To achieve this, we follow a comprehensive step-by-step approach that consistently delivers exceptional results.
- Initial consultation and assessment: We begin by thoroughly consulting the client. We discuss the vision, preferences, and requirements for the transformation. Additionally, we assess the condition of the walls, taking note of any repairs or preparations needed.
- Surface preparation and repair: MGP Painting understands that proper surface preparation is crucial for a flawless finish. We meticulously prepare the walls by filling cracks, repairing damaged areas, and smoothing surfaces. This step ensures a clean canvas for the paint or wallpaper installation services.
- Selection of colors or designs: Collaborating closely with the client, we assist in selecting the perfect paint colors or wallpaper designs that align with the desired aesthetic and overall vision for the space.
- Application of paint or installation of wallpaper: We utilize professional techniques and tools to apply paint or install wallpaper. We pay careful attention to detail, ensuring an even and precise application. For wallpaper installation, we focus on achieving a smooth and bubble-free finish.
- Quality control measures and final touches: We conduct thorough inspections to ensure the transformation meets our quality standards. We address minor imperfections, make necessary touch-ups, and apply final coats if required. We also leave the space clean and ready for use, ensuring a hassle-free experience for the client.
Client Testimonials and Success Stories
At MGP Painting, we've seen it all, from outdated paint to peeling wallpaper and beyond. No matter what state your walls are in; we can help get them back to looking their best.
Don't just take our word for it – see what some of our past satisfied clients have had to say about their experience working with us:
"It was a wonderful and relaxing experience - from start to finish. The workers were professional and always on time. They were very polite and understood my every need as a homeowner." - Leah R., homeowner.
"They worked hard until the end of the day, and I have no words to describe my appreciation for the quality work they have demonstrated." - Raquel D., Home Owner.
We have countless success stories like these, where our clients have seen their vision come to life with our painting and wallpaper installation services.
Ready to see your own before and after pictures? Contact us today for a free consultation. We can't wait to help you love your space again!
Conclusion
We hope you find this informative blog guide helpful in making a perfect decision for your living space or working area. If you still have any doubts, then book an online consultation today!
We value your feedback and appreciate your thoughts and suggestions. Trust us to deliver exceptional results and make your walls the envy of all who see them. Contact us today, and let us turn your vision into a stunning reality.